Staggered Start and Finish Times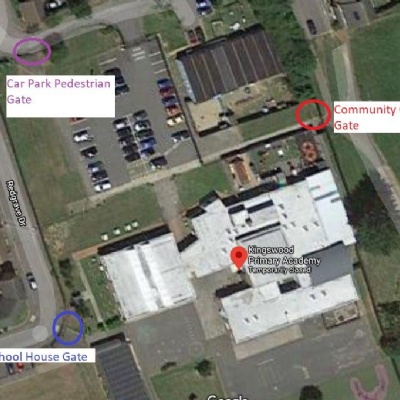 TImings for drop-offs and collections
Staggered Opening
Timings:
Nursery, Reception, Year 1 and Year 2 will start at 8.45am and finish at 3.00pm
Year 3 to Year 6 will start at 9.00am and finish at 3.15pm
(If you have children in multiple year groups, they should arrive at 8.45am and leave at 3.15pm)
Entrances :
Nursery, Reception and Year 1 will enter the site from the Community Centre Side Gate. Parents of these pupils will be allowed on site initially.
Nursery will enter their classroom via the white entrance porch as normal.
Reception will enter through the double purple gates in their outdoor area.
Year 1 will line up on the designated playground spots outside their classroom.
Year 2, Year 4, Year 5 and Year 6 will enter the site through the School House Gates and each class will line up in their designated area. Staff will direct them. Unfortunately, parents will not be allowed on site.
Year 3 will enter the site via the Car Park Pedestrian Gate and enter their classroom via the small gate next to the front entrance to school. Staff will direct children.

Year 4 will be collected from a gate outside of their classroom, so at hometime parents should enter through the Car Park Pedestrian gate.
To limit the number of adults on and around the site entrances, we respectfully ask that where possible, only one adult accompanies their child(ren) to school. If at all possible, we would ask that those parents entering the site (Nursery to Y1 only) do not bring pushchairs. This will help reduce congestion and aid social distancing along the side path.