About Us
At the Kingswood Primary Academy we strive to provide a caring environment, where all children will be given encouragement to succeed in everything that they do. We have the good fortune to be able to provide for all our children through a skilled team of dedicated staff together with excellent support from parents, the Greenwood Academy Trust and the community.
Our Academy has around 250 children on roll, aged 3-11. We have a Nursery, Reception and classes from Years 1 to 6, with one class in each year. If you would like to enquire about a place for your child please contact the County Council Admissions Team on: 01604 236 236
​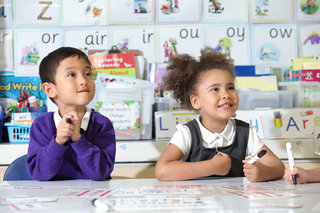 ​
​
Working in Partnership
Whilst we acknowledge the crucial role that schools play in a child's development we believe that the most important teachers in a child's life are their parents. We therefore actively encourage parents to involve themselves in the learning of their child and in the life of our school family. We aim to provide a welcoming atmosphere which encourages parents to come and discuss any matters concerning their child's progress and welfare.
This Academy is sponsored by the Greenwood Academies Trust which was formed in 2009 and now educates approximately 16,000 pupils across eight local authority areas including Nottingham City, Nottinghamshire, Derby City, Leicester City, Northamptonshire, Peterborough, Lincolnshire and Central Bedfordshire.
To find out more about the Trust click here.
There are currently no vacancies at Kingswood Primary Academy.